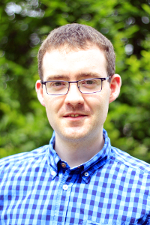 Research associate
Scientific Computing and Bioinformatics
Institute of Computer Science
Johannes Gutenberg University
Staudingerweg 9
55128 Mainz, Germany
Office: 03-425
Phone: +49 (0) 6131 39 29549
Fax: +49 (0) 6131 39 23534
Email: thkemmer@uni-mainz.de
Short scientific CV
10/2014 - present
Research associate and PhD candidate in computer science
Johannes Gutenberg University Mainz
10/2012 - 09/2014
M.Sc. in computer science (Naturwissenschaftliche Informatik)
Thesis title: Towards prediction of epigenetics-related protein types
Johannes Gutenberg University Mainz
10/2009 - 09/2012
B.Sc. in computer science
Thesis title: Entwicklung einer Anwendung zur Prüfungsordnungsmodellierung und Studienplanung
Johannes Gutenberg University Mainz
Publications
Kemmer, T, Rjasanow, S., Hildebrandt, A (2018).
NESSie. jl–Efficient and Intuitive Finite Element and Boundary Element Methods for Nonlocal Protein Electrostatics in the Julia Language.
Journal of Computational Science 28, 193-203.
Hildebrandt, AK, Kemmer, T, Hildebrandt, A (2017).
The Electromagnetic Nature of Protein-Protein Interactions.
In: Zhang, Z, Rhouabhia, M, Moulton, SE. Conductive Polymers - Electrical Interactions in Cell Biology and Medicine. CRC PRess.
Teaching
Summer term 2018
- Seminar: Advanced Topics in Bioinformatics (tutor)
- Lab course: C++ Crash Course (lecturer)
- Lab course: Big Data (tutor)
Winter term 2017/18
- Lecture: Big Data (teaching assistant)
- Seminar: Advanced Topics in Bioinformatics (tutor)
- Lab course: Software Tools in Bioinformatics (lecturer)
Summer term 2017
- Seminar: Advanced Topics in Bioinformatics (tutor)
Winter term 2016/17
- Lecture: Big Data (teaching assistant)
- Seminar: Advanced Topics in Bioinformatics (tutor)
- Lab course: Software Tools in Bioinformatics (lecturer)
- Lab course: C++ Crash Course (lecturer)
- Lab course: Big Data (tutor)
Summer term 2016
- Seminar: Advanced Topics in Bioinformatics (tutor)
Winter term 2015/16
- Lecture: Big Data (teaching assistant)
- Seminar: Advanced Topics in Bioinformatics (tutor)
- Lab course: Software Tools in Bioinformatics (lecturer)
- Lab course: Big Data (tutor)
Summer term 2015
- Lecture: Introduction to Software Design (teaching assistant, substitute lecturer)
- Seminar: Advanced Topics in Bioinformatics (tutor)
- Lab course: Software Tools in Bioinformatics (lecturer)
- Lab course: C++ Crash Course (lecturer)
Winter term 2014/15
- Seminar: Advanced Topics in Bioinformatics (tutor)
Summer term 2014
- Lecture: Introduction to Software Design (teaching assistant, tutor)
Summer term 2013
- Lecture: Introduction to Software Design (tutor)
Winter term 2012/13
- Lecture: Introduction to Programming (tutor)
Summer term 2012
- Lecture: Introduction to Software Design (tutor)
Winter term 2011/12
- Lecture: Introduction to Programming (tutor)
Summer term 2011
- Lecture: Introduction to Software Design (tutor)
Winter term 2010/11
- Lecture: Introduction to Programming (tutor)